The wine industry is an important contributor to the economy and to employment in California. Left unchecked, process water generated by the wine industry can negatively affect groundwater quality. Previously, permitting statewide was inconsistent, and there were no uniform standards governing the discharge requirements for process water from the wine industry. The State Water Resources Control Board collaborated with the wine industry to develop a General Order pertaining to the discharge requirements for winery process waste that is discharged to land for reuse or disposal.
California Winery Wastewater Regulations
On January 20, 2021, the State Water Resources Control Board adopted a Resolution for the California Environmental Quality Act Mitigated Negative Declaration for the Waste Discharge Requirements for Winery Process Water and associated General Order. These wastewater regulations are applicable throughout California.
Why were the regulations created?
The California State Water Board developed these requirements in order to streamline and improve permitting consistency, and also to safeguard groundwater and surface water from wastewater discharges. As of January 2021, only about 16% of bonded wineries in California had existing permits or conditional waivers to dispose of winery waste onto land. Streamlining efforts will allow regional water boards to focus on compliance instead of developing and issuing site-specific orders, thus speeding up the permitting process.
What does this winery wastewater order regulate?
The primary concerns for winery wastewater that affects groundwater quality are nitrogen, salinity, and biochemical oxygen demand (BOD). The inability to manage winery process water quality can cause nuisance odors, anaerobic conditions, groundwater degradation, and other issues. This order includes requirements to ensure winery operations effectively manage these levels, and thus reduce negative impacts to water quality. It also limits how much process water can be disposed of through land and subsurface disposal.
Other items included in this order are reporting and monitoring requirements, plus general specifications and prohibitions for California winery process-water treatment systems, ponds, land application, and subsurface disposal areas. Never before has it been so important for a winery to have a wastewater treatment solution to ensure compliance with the State, and to protect the groundwater.
What do wineries need to do to meet California Winery Wastewater Regulations?
While this order governs surface water quality, it also provides wineries flexibility in selecting compliance methods depending on their winery wastewater characteristics and flows. Each winery can find the best fit for its site-specific situation in order to meet the requirements of the General Order. Wineries will need to comply with the effluent limits dictated by the order, which may mean upgrading ponds and disposal areas. They will also need to monitor process water, and report compliance relative to their waste production and the associated threat to water quality.
How STS can help California wineries comply with wastewater regulations?
There are many specific details in this order, and Specialty Treatment Solutions can help you decipher it and develop a customized solution to meet these requirements for your winery operation.
With our wastewater treatment systems specifically tailored toward the wine industry, not only will your operation meet state regulations, but it will benefit from having re-usable water, suitable for irrigation or fire protection. Even smaller wineries can meet these regulations with our small footprint systems which take up less space than conventional ponds or leach fields, allowing better utilization of land. Click to learn more about our systems, or contact us for more information.
Permit Contacts
If you need a permit, please contact your regional water board, listed below. If you have questions about the adopted Winery Order, please contact the California State Water Board at 916-341-6904 or DWQ-Winery@waterboards.ca.gov.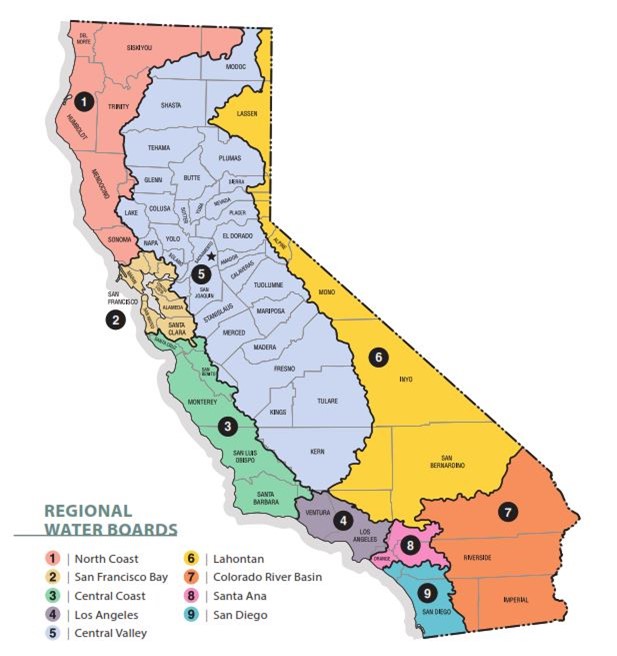 Regional Water Board
Email Address
North Coast Regional Water Board
northcoast@waterboards.ca.gov
San Francisco Bay Regional Water Board
RB2-winery@waterboards.ca.gov
Central Coast Regional Water Board
RB3-WDR@waterboards.ca.gov
Los Angeles Regional Water Board
losangeles@waterboards.ca.gov
Central Valley Regional Water Board - Redding
centralvalleyredding@waterboards.ca.gov
Central Valley Regional Water Board - Rancho Cordova
centralvalleysacramento@waterboards.ca.gov
Central Valley Regional Water Board - Fresno
centralvalleyfresno@waterboards.ca.gov
Lahontan Regional Water Board - South Lake Tahoe
lahontan@waterboards.ca.gov
Lahontan Regional Water Board - Victorville
lahontan@waterboards.ca.gov
Colorado River Regional Water Board
rb7-wdrs_paperless@waterboards.ca.gov
Santa Ana Regional Water Board
santanana@waterboards.ca.gov
San Diego Regional Water Board
rb9paperless@waterboards.ca.gov

WINE WASTEWATER DISCHARGE PERMIT CONTACTS IN CALIFORNIA
Source
California Water Boards. 2021. General Waste Discharge Requirements for Winery Process Water.